Stories about fly fishing on the Miramichi are as numerous as the stars in the beautiful Canadian sky. Some involve famous river guides, sportsmen, or even great baseball players who were great fishermen. Some, if not most, involve Yankee fly fishermen like myself who travel great distances for the thrill of catching an Atlantic Salmon. Now, only God knows which stories are fact, fiction or embellished upon. The truth is, if you've heard a story about fishing on the Miramichi, it is probably not the generic tale about the fish that got away.
A recent trip, in September, to the Miramichi with my dad and some friends gave me my own fishing tale. It was our second trip to Tuckaway Lodge, owned and operated by Vincent Swazey, and our last day of fishing. A rainy, overcast sky produced high hopes for prosperous fishing, but our morning efforts produced no takers. The fish were there. We counted at least 30 salmon rising or jumping in Home Pool that morning, all basically teasing us, but none interested in the variety of flies we presented.
That afternoon we returned to the Home Pool area of Tuckaway Lodge at 3:30, the earliest afternoon start of the week for us. We knew the salmon were there and were anxious to catch them.
I slowly worked my way down stream in the rain from Elbow Pool to Home Pool and joined up with our guides, Vince Swazey and Renate Bullock. My father, Robert Skead, and our distant relative from England, Thomas Skead, fished the opposite side of the pool. My cousin, Rich Carbone, and Harry Huff (the best caster I've ever seen and owner of Streams of Dreams in Upper Saddle River, NJ) presented their flies on my side of the river.
As I cast a No.12 Blue Charm to the unseen salmon below, Vince stood by my side and told me about an experience he had with his friend Ted Williams. Ted and Vince were at an event together when a woman approached Williams with a baseball for an autograph. Ted graciously signed to the woman's delight, then, Vince stuck out his hand to receive the ball. The woman looked at Vince strangely. "Who are you?" she said disdainfully. Vince replied, "Who am I? He might be the greatest hitter to ever live, but I'm the greatest salmon fisherman." The woman jerked back her hand with the ball, giving both Vince and Ted a good laugh.
Vince finished his story just as it was obviously time for me to change my fly. We changed to a No. 12 General Practitioner (GP), tied by Renate Bullock. "Rob," Vince began. "Sometimes salmon like to lie in the trough at the side of the pool, about ten feet from where you're standing. Shorten your cast and give it a try," he said.
I thought it strange for a moment. Everyone else, like myself, was casting long into the middle of the pool, but like a kid listening to his coach, I did as I was told. I smiled. A short cast, after all, was quite appealing. After a week of fishing, with 10,000 or more casts behind me, each one trying to be long, straight and perfect, a short cast seemed restful. Vince left my side and I took a few steps back. I looked to my left at Rich and Harry. Where they were standing was practically right on an even plane with where I was about to cast. I reeled in some line and let a nice 12-foot cast go, it drifted and wham! A salmon took the fly and sent my reel a whizzing! The first cast!
I yelled with excitement and delightful surprise, grinning from ear to ear. Swazey, looking like a man who knows his business, smiled too and yelled "All right!"
"Vince, you really are the greatest salmon fisherman to ever live," I said with a joyful laugh. "You're a genius."
Ten minutes and four salmon leaps later, I landed a seven pound grilse, my third of the week. I was very happy, to say the least.
That night before dinner, I felt it appropriate to ask Swazey to autograph my fly box. With all due respect to Mr. Williams, knowing where and how to catch Atlantic salmon is just as special as having a keen batting eye – – especially to this Yankee paying hard-earned money for the privilege.
As we gathered that evening to say our thank-yous and good-byes to Vince and Renate, I thought about the weeks' experiences and about the plight of the Atlantic salmon. I looked over at my dad, the man who taught me how to fly fish and who gave me an appreciation for "just being out on the water," and I wondered if I would ever be able to return to the Miramichi with my son Robbie (who turns two in December). Will there still be salmon in the river? Well, I guess the answer to that question is up to all of us. It is our responsibilty to ensure that the opportunity for these memories exists in the future for ourselves and our children.
After all, after three trips to the Miramichi, with seven grilse caught and released, the big salmon is still somewhere in my future. Who knows, Lord willing, it could be on my very next cast.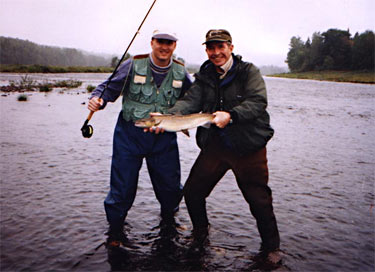 Photo caption: Rob Skead, left, and guide Vince Swazey with Rob's "short cast" salmon in Home Pool.
© 2015 RobertSkead.com . All Rights Reserved Website Design by Premier Web Solutions LLC