THE STORY BEHIND THE STORY: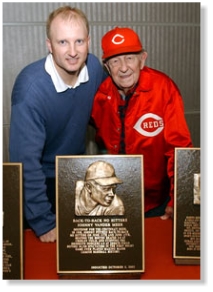 Robert Skead learned about Johnny Vander Meer in 1996, when he and his wife moved to Midland Park, New Jersey. He soon became fascinated with his story—small town boy becomes Major Leaguer, sets record that no one will ever break, is loved by his hometown and helps local children with scholarship money and good deeds. However, it was when he attended "Johnny Vander Meer Day," a special Midland Park event held on April 28, 1996, that his appreciation for the man truly began.
Sadly, only a year and a half after that event, Johnny Vander Meer died at the age of 82. Soon thereafter, Rob was put in touch with Johnny's life-long best friend, Mr. Dick Jeffer, who was 83-years-old at the time.
With their shared love of the game, Rob and Mr. Jeffer became close friends. Mr. Jeffer asked him to do whatever he could to help keep the memory of his best friend and the record alive. To keep his promise, Rob knew children everywhere should learn this story about Vandy's amazing accomplishment and he set out to write a children's' book that detailed the events—Batboy Stories: The Story of Johnny Vander Meer's Unbreakable Record is the result of his hard work. Sadly, Mr. Jeffers recently passed away in a local nursing home at the age of 96. But Rob knows it would have been his favorite book.