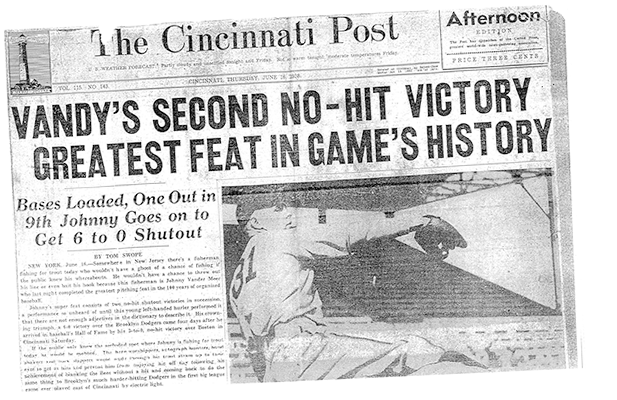 And so the stage was set for the last of the ninth. Much has been written about that last bat the Dodgers had, and it has to go down as one of the most exciting nail-biting experiences ever witnessed by a baseball fan. Who better to call the inning than the old redhead himself, Red Barber, the famous voice of the Brooklyn Dodgers. The game was not broadcast in 1938 and what follows is a recreation of the inning, play by play.
Vander Meer goes through the eighth inning and this huge crowd at Brooklyn now is roaring for Vander Meer to do it. In the last half of the ninth inning, the first batter up for the Dodgers was Buddy Hassett, and he hits a little ground ball on the first base side and Vander Meer, like a hungry cat, swept off the mound, grabbed it, and tagged Hassett out himself. One out. And then Vander Meer's trouble that had caused him to be in the minor leagues for six years while he was a rookie, he was twenty-three, his trouble was wildness. He couldn't find the plate. He suddenly walked Babe Phelps, and Phelps gave way for a pinch-runner named Goody Rosen, as Burleigh Grimes, the then Dodger manager, made a move.
So the next batter up is the dangerous Harry "Cookie" Lavagetto, and he was walked. And now two men are on, and Vander Meer seems to be almost out of control himself. Dolph Camilli, an even more dangerous hitter, came up. Vander Meer throws him a strike and then four balls. Now he has loaded the bases, he has walked three straight men. But still with one out in the ninth inning, he hasn't given up a base hit . . . .
Now the batter coming up is Ernie Coy, a big right-hand hitting outfielder who played fullback at Texas and he can run like a deer. Vander Meer is ready to go, McKechnie going back to the dugout . . . .
Ernie Lombardi, "Big Schnozz," sitting back of the plate, was ready to give the sign. One out. Vander Meer pitches and fires a strike. No balls and one strike.
The infield is back . . . Coy swings, and it's a ground ball half speed going down to third. Riggs charges, he's got it, and his only play is to the force at home. Two outs but the bases remain loaded. Vander Meer now is just one out away, and the hitter coming up is Leo Durocher, a right-hand hitter, a loose-footed hitter, and a dangerous man in the pinch. Vander Meer goes to the rosin bag, throws it away, the big left-hander steps on the mound, looks around, the outfield is straight away. He delivers, it's a strike. No balls, one strike. Leo is going to get ahead if he can. Leo's ready, so is Vander Meer. The runners take their leads. Two down. Here's the pitch. Strike two.
Vander Meer ready. Lombardi sets up the target. The left-hander delivers, Durocher swings, it's a hard line drive going down the right field line and it's foul, just by a few feet, in the right field corner. Durocher gets back in again, Vander Meer rubs up a new ball. He pitches and it's a high fly ball going into medium center field. Harry Craft runs under it, sets, and takes it and it's a double no-hitter for Vander Meer!
Of course, bedlam erupted on the field. Big Ernie Lombardi rushed to Johnny and lifted him off of the ground.
Babe Ruth, who was seated in the Reds' dugout, greeted him with "nice going, kid."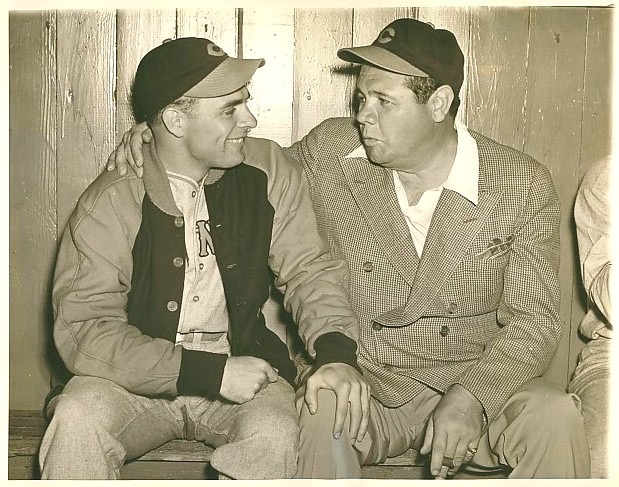 A group of teammates formed a protective barrier around him to protect him from the fans who had overcome security and who would have torn the clothes from his body. Some loyal friends from Midland Park waited hours for him to emerge from the clubhouse and escort him home.
Early the next morning Vander Meer was off fishing for bass, but the biggest surprise of the day turned out to be a visit to the Vander Meer home by Babe Ruth. His sister, Jerry, collected dozens of flash bulbs left by photographers and kept them as souvenirs. Congratulatory telegrams started pouring in. The ones saved were from President Franklin D. Roosevelt and National League Commissioner, Ford Frick. Letters arrived from J. Edgar Hoover, Head of the FBI, as well as the Mayor of Cincinnati, and baseball announcer Red Barber.
Vander Meer was born on 2 November 1914 the second son and middle child of Jacob and Katie. Their older son, Martin, had been born in 1912 and would become a semi-professional catcher and a battery mate for John. Their daughter, Jerry, was born in 1922. Jacob Vander Meer's entire working life was at the United Piece and Dye Works in Paterson where he became a maintenance foreman. In 1918 the family moved approximately five miles from the Borough Prospect Park to the Borough Midland Park where they purchased a wood-framed house on Rea Avenue.
John started playing baseball in grade school at the Midland Park Christian School for the "Obadiah Nine," named after their Bible Society; the team later became the Rangers. After grade school John and his father disagreed over which high school to attend. His father insisted on a Christian high school while John saw more opportunity to advance his baseball career in the public high school. When they reached an impasse, John decided to forego school and his father got him a job at the United Piece and Dye Works. He apprenticed as an engraver and after a couple of years was earning $22 per week. All during this time he was the star pitcher for the Rangers and local semi-pro teams.
He described his developing baseball career during these years as:
The first money I received for playing ball was thirty cents an inning for pitching for the Midland Park Rangers. Sometimes I made as much as three dollars a week extra. My pitching improved and soon I was able to make as much as fifteen dollars a week pitching for semi-pro teams in the Paterson vicinity.
I had pitched five no-hit, no-run games in the summer of 1932 in semi-pro games around Paterson. I pitched one for the Vaughans of Paterson, an eight-inning affair that I didn't even win. It ended in a 0-0 tie because of darkness. I pitched three for the Midland Park Rangers, winning them all. The other one I pitched and won for the Prospect Park Prospects, a seven-inning twilight game.
I had pitched five no-hit, no-run games in the summer of 1932 in semi-pro games around Paterson. I pitched one for the Vaughans of Paterson, an eight-inning affair that I didn't even win. It ended in a 0-0 tie because of darkness. I pitched three for the Midland Park Rangers, winning them all. The other one I pitched and won for the Prospect Park Prospects, a seven-inning twilight game. I don't want to raise any animosity among those who claim to have discovered me, but Fred Pridmore, of Pompton Lakes, New Jersey, an oil salesman who was an avid baseball fan and who had major league connections, was the first to believe enough in me to try to get me a tryout.
Pridmore was sold on my possibilities and he got me a three-day tryout with the Giants in late September, 1932. I reported to the Polo Grounds at ten o' clock on a Saturday morning, expecting to see Bill Terry, my boyhood hero, who had succeeded John McGraw as manager of the Giants that season. Terry wasn't there. I worked out and nobody paid much attention to me.
Later I dressed and sat in the left field stands and watched the Giants play the Cardinals and began to wonder.
Sunday, I sat in church, still wondering. I didn't wonder on Monday. I went to work at my old job at the United Piece [and] Dye Works, in Paterson, at $22.50 a week.
Vander Meer got his big break when Joseph Walsh, a producer for Pathe Films in New York City, came to see National League President John Heyden about an idea he had for a baseball film. Dave Driscoll, Business Manager for the Brooklyn Dodgers, was also in the office. Walsh wanted to make a film about an all-American boy who tries out for a major league team. The boy had to have a good chance of succeeding and had to come from an average family with religious tones and an unblemished character.
Driscoll told Walsh about Vander Meer. Driscoll had watched Vander Meer pitch that summer and did a background investigation with a view to offering him a contract with the Dodgers. Heyden bought the concept and Vander Meer arrived at the Brooklyn Dodgers' training camp in Miami in 1933 to star in the film called "Typical American Boy." Joe S. Haute, a former Cleveland Indians pitcher, introduced him to some of the techniques of becoming a better pitcher. They worked on how to toe the rubber and develop a curve ball to supplement his fast ball; up to that time his pitching arsenal was limited to the fast ball. After the completion of the film John was offered a contract by the Dodgers for $125 a month and was sent to the "A" farm team in Dayton, Ohio. It was a start, but the inauspicious start of most professional baseball players at the time.
One problem for Vander Meer was his Christian Reformed Church congregation, many of whose members objected to playing baseball on Sunday. Dick Jeffer and Vander Meer were in grade school together and both were on the Rangers' team. "I was his best friend," said Jeffer, "and the feeling was mutual. It lasted until he died." Jeffer never missed a game when Vander Meer pitched in the New York area and always was his hunting and fishing companion. He characterized John as an average guy who was always gracious and accommodating to his fans. When asked about the controversy caused in the church, "It was the times," said Jeffer. "You know how it was in the thirties—you couldn't even ride your bike on Sunday if you were a member of the Christian Reformed Church, but as far as I know the church never started any disciplinary action against Johnny." But reaction from individual church members was different. Vander Meer's sister Jerry recalls, "The church treated Johnny terribly," and she still harbors hard feelings against some people who were critical of John for playing on Sunday. Jeffer remarked on the hypocrisy of some of Vander Meer's critics who didn't hesitate to go to the games to see all those Sabbath Day desecraters play ball. Jeffers was organist at the Midland Park Christian Reformed Church and he tells me with a mischievous twinkle in his eyes, "I'll tell you how baseball crazy we were in those days. When Johnny would be pitching in either the Polo Grounds or Ebbets Field, an usher would go to his car and tune into a radio station. They didn't broadcast games but would give the scores on the top of the hour. He would then write it on a piece of paper and bring it to me at the organ." We both had a good chuckle over that one.
As for his baseball career, ask any player who came up in the minors in the thirties and they will all tell you the same story: low pay; long road trips in old, non-air conditioned buses; cheap motels; terrible food; and often poor playing conditions, with even poorer dressing facilities. John spent six years in the minors, starting with the Dayton Ducks and then two years in Scranton, Pennsylvania. It was there in 1935 that he met Lois Stewart who would become his wife. His first three years in the minors were not spectacular, with control being the main problem. In 1935 he had 88 strikeouts but walked 90. In 1936 he was sent to the Nashville club to consult with Dr. Lee Jensen, a noted sports doctor, who specialized in treating injuries to the arm. Vander Meer was diagnosed as having an injury that involved a muscle behind his shoulder and, after a series of treatments and exercises, his arm started to heal. He was sent to Durham, North Carolina, and finished the season with nineteen wins and only six losses and a low ERA (earned run average) of 2.65. He was named Minor League Player of the Year by Sporting News and was told to report to the Cincinnati Reds in Tampa, Florida, for spring training in 1937.
The next year was the turning point in his career. He finished with fifteen wins and ten losses with a very respectable ERA of 3.12. This record, along with his successive no-hitters, gained him a spot in the 1938 All-Star Game as the starting pitcher. Some of the future Hall of Famers he faced were Joe DiMaggio, Charles Gehringer, Jimmy Fox, Bill Dickey, Joe Cronen, and Lou Gehrig. His mound opponent was Lefty Grove, who would have six wins and no losses in the World Series play. John pitched three excellent innings and received credit for the National League win that year.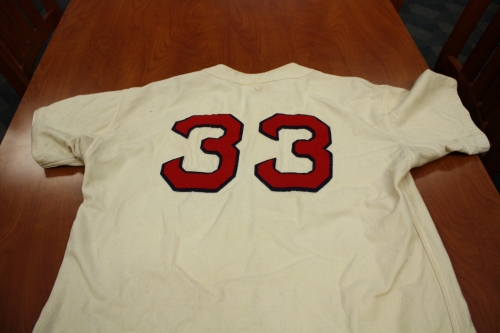 John signed with the Reds again in 1939 for $13,000 but his arm trouble all year resulted in a dismal five wins and nine losses record. In 1940 he was sent down to the AAA Indianapolis club so he could begin treatment for his arm again with Dr. Lee Jensen. The arm again started to respond to the treatments and the velocity of his pitching gradually started to improve. He was called back to Cincinnati and pitched thirteen innings in a nineteen-inning game he won that clinched the pennant for the Reds. That propelled them into the World Series against the Detroit Tigers. John was scheduled to pitch the fourth game but Manager McKechnie's strategy dictated that he go with a right hander. The Reds won the series and Vandy was voted a half-share of the series money purse since he had only spent a little over a month with the team. His record for 1939 was five wins and nine losses. Arm trouble plagued him again in 1940 and he only pitched forty-eight innings and only won three games.
He came back strong in 1941 winning sixteen and losing thirteen. He had a low ERA of 2.82. He was the "strikeout king" of the National League with 202 but also gave up 126 walks. His wildness was still not under control. John was again selected for the All-Star Game and pitched three outstanding innings with six strikeouts, tying the great Carl Hubbel's all-star record. The next two years, 1942 and 1943, were outstanding ones for John—33 wins against 20 losses, but with a slightly higher ERA of 4.15.
In the spring of 1944 he joined the Navy, reporting to the Sampson Naval Training Center in Itachi, New York, for basic training. After the completion of training he was ordered to the Pacific Theater and duty at Pearl Harbor. Admiral Chester Nimitz had managed to assemble around forty major league players divided into two teams, which island-hopped playing exhibition games for the troops. The tour ended in Guam and Vander Meer was able to visit with Tunis Nywening, who had married his Jerry.
Vander Meer was discharged in time to join the Reds in 1946, but compiled a lackluster record of ten wins and twelve losses. Things did not improve in 1947 with only nine wins and fourteen losses and a high ERA of 4.40. But in 1948, when many figured his career was over, he racked up seventeen wins against fourteen losses with a respectful ERA of 3.41. The 1949 season, for all practical purposes, was his last. In 1950 his contract was sold to the Chicago Cubs for $30,000. Manager Frankie Frish used him mainly in relief and he only pitched seventy-three innings the whole year. He did manage to win three and lose four. In 1951, he was traded to the Cleveland Indians. This would be John's first time in the American League. He was used in a relief role again but the starting pitchers for the Indians—Bob Feller, Early Winn, Bob Lemon, and Mike Garcia—did not need much relief. By mid-season he had pitched only three innings. He was released and he finished the season with the AAA Oakland team in the Pacific League.
Vander Meer knew his playing days in the majors were over, but he had to find work to support his wife and two daughters, since he was still years from being eligible to collect from his baseball pension. To his surprise, he received a call from his old friend Gabe Paul in the Reds' organization, who offered him a job as manager of the Tulsa, Oklahoma, club. He accepted and was both manager and player, winning eleven games with a nice 2.30 ERA. In 1953, he managed the Burlington, Iowa, team of the Three-I League. From there he managed the Petersburg, Virginia, team in 1954 then went on to Daytona Beach and the Palatca Club in the Florida State League. From Florida it was back to Topeka, Kansas, but his wife Lois was getting sick of the long absences but, more importantly, he was not making enough money to adequately support his family. He began working part-time for the Joseph Schlitz Brewing Company in public relations and was thinking of giving up baseball. But in 1961 he was offered the job managing the Tampa team of his adopted city. He was home most nights and the longest road trips were to Miami and Daytona Beach. In 1962, John was hired for the AAA Syracuse, New York, team with a hefty annual salary of $14,000 and a two-year contract. But, after the first year, management brought in a new manager and Vander Meer had to file a grievance with the league to collect on his contracted salary. He won the grievance provided he served as pitching coach for the second year. He resigned and started to work for Schlitz full-time in sales and public relations, a job that lasted eighteen years. In 1982 he was able to retire with a very comfortable baseball pension. That same year he lost his wife Lois to a stroke and his daughter Shirley died as a result of complications from diabetes.
Among the honors Vander Meer cherished most was his induction into the Cincinnati Reds Hall of Fame. He, along with Ernie Lombardi, was among the first to be honored. The Brooklyn Dodgers, in a unique display of sportsmanship, also inducted him into their Hall of Fame. In thirteen seasons, he had won 119 games against 121 losses. In 1942, he started in 33 games and finished 21. With relief pitching today starting pitchers rarely finish a game. He struck out 1,294 batters but he walked almost as many— 1,132. They did not have devices for recording the speed of pitches in those days, but players and his managers all thought his pitches were in the 100 mph+ range.
Throughout his career Vander Meer often returned to Midland Park to renew family ties and seek out old friends. During the off-season he would pitch exhibition games to benefit local charities. A Little League field was dedicated to him in recognition of several thousand dollars in donations.
Vander Meer passed away on 6 October 1997 from an aneurysm. A service was conducted in the Methodist church by Bishop Knox and interment was held at the Garden of Memories on the outskirts of Tampa. His boyhood friend, Dick Jeffer, and many former baseball players were the honorary pall bearers.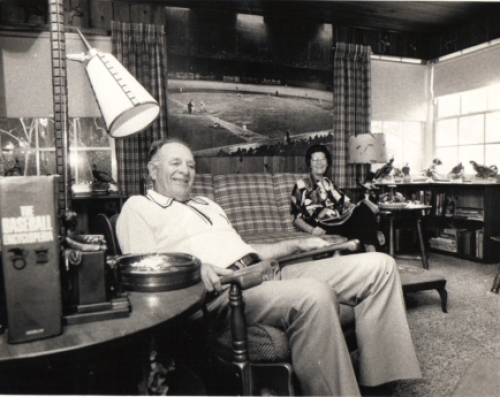 Article used by permission from Origins newsletter: http://www.calvin.edu/hh/origins/Fall07_25_2.pdf