The Story of the 100 Year Old Bat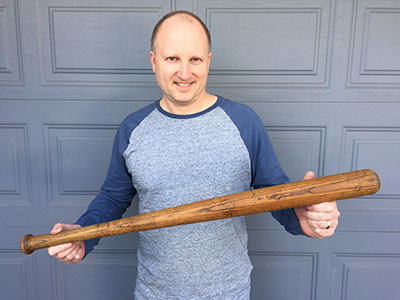 In April 2000, I was fortunate enough to purchase a 100 year-old, wooden baseball bat at a bargain price. When the old Spalding® bat arrived, I immediately displayed it on the wall in our family room. I never imagined the bat would generate a story. Here's what happened:
The bat's unique, old-fashioned shape and brown patina mesmerized me. I noticed there were initials – RM – carved on the bottom of the bat. I wondered who RM was. How old was he when he received the bat? Did he hit any homeruns with it? What if RM became a major league player later in life and this was his bat when he was a kid?
That last question hit me like a line drive between the eyes. I imagined that the bat once belonged to Lou Gehrig when he was a kid. I then imagined what would happen if a child had the bat today and started using it in his games. Could the bat have special powers in the hands of an imaginative child?
The result of all this imagining is HITTING GLORY – A BASEBALL BAT ADVENTURE.
Hey… Suddenly, I feel the urge to obtain a vintage fishing reel or American Revolution document. Who knows — maybe a story will come from it!